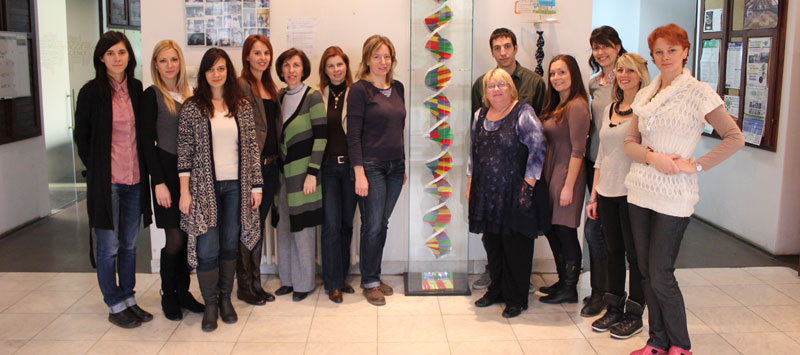 LMB has established successful collaborations with a number of distinguished EU centres and their top class scientists resulting in joint papers and partnerships in significant projects. In addition, LMB has successful collaborations with eminent Serbian and Balkan healthcare institutions. Accumulated know-how has been translated into improvement of medical practice through molecular genetic diagnosis of genetic disorders and malignancies. Some of genetic testing in LMB are exclusively done in Balkan region. LMB team is actively engaged in educational activities within University of Belgrade with special emphasis on conducting multidisciplinary PhD thesis. LMB researchers are also devoted to promotion of molecular genetics, genomics and biomedicine at all levels.
Current projects:
Selected publications:
Gazouli M, Wouters MM, Kapur-Pojskić L, Bengtson MB, Friedman E, Nikčević G, Demetriou CA, Mulak A, Santos J, Niesler B. Lessons learned - resolving the enigma of genetic factors in IBS. Nat Rev Gastroenterol Hepatol. 2016;13(2):77-87.
Stojiljkovic M, Klaassen K, Djordjevic M, Sarajlija A, Brasil S, Kecman B, Grkovic S, Kostic J, Rodriguez-Pombo P, Desviat LR, Pavlovic S, Perez B. Molecular and phenotypic characteristics of seven novel mutations causing branched-chain organic acidurias. Clin Genet. 2016. doi: 10.1111/cge.12751.
Kotur N, Dokmanovic L, Janic D, Stankovic B, Krstovski N, Tosic N, Katsila T, Patrinos GP, Zukic B, Pavlovic S. TPMT gene expression is increased during maintenance therapy in childhood acute lymphoblastic leukemia patients in a TPMT gene promoter variable number of tandem repeat-dependent manner. Pharmacogenomics. 2015;16(15):1701-1712.
Zerjav Tansek M, Groselj U, Angelkova N, Anton D, Baric I, Djordjevic M, Grimci L, Ivanova M, Kadam A, Kotori V, Maksic H, Marginean O, Margineanu O, Miljanovic O, Moldovanu F, Muresan M, Nanu M, Samardzic M, Sarnavka V, Savov A, Stojiljkovic M, Suzic B, Tincheva R, Tahirovic H, Toromanovic A, Usurelu N, Battelino T. Phenylketonuria screening and management in southeastern Europe - survey results from 11 countries. Orphanet J. Rare Dis. 2015;10:68. doi: 10.1186/s13023-015-0283-0.
Paschou P, Drineas P, Yannaki E, Razou A, Kanaki K, Tsetsos F, Padmanabhuni SS, Michalodimitrakis M, Renda MC, Pavlovic S, Anagnostopoulos A, Stamatoyannopoulos JA, Kidd KK, Stamatoyannopoulos G. Maritime route of colonization of Europe. Proc Natl Acad Sci U S A. 2014;111(25):9211-9216.
Srzentić S, Spasovski V, Spasovski D, Zivković Z, Matanović D, Bascarević Z, Supić ZT, Stojiljković M, Karan-Djurasević T, Stanković B, Pavlović S, Nikcević G, Vukasinović Z. Association of gene variants in TLR4 and IL-6 genes with Perthes disease. Srp Arh Celok Lek. 2014;142(7-8):450-456.
Stanković B, Radlović N, Leković Z, Ristić D, Radlović V, Nikčević G, Kotur N, Vučićević K, Kostić T, Pavlović S, Zukic B. HLA genotyping in pediatric celiac disease patients. Bosn J Basic Med Sci. 2014;14(3):171-176.
Jančić I, Arsenović-Ranin N, Sefik-Bukilica M, Zivojinović S, Damjanov N, Spasovski V, Srzentić S, Stanković B, Pavlović S. -174G/C interleukin-6 gene promoter polymorphism predicts therapeutic response to etanercept in rheumatoid arthritis. Rheumatol Int. 2013;33(6):1481-1486.
Karan-Djurasevic T, Palibrk V, Zukic B, Spasovski V, Glumac I, Colovic M, Colovic N, Jurisic V, Scorilas A, Pavlovic S, Tosic N. Expression of Bcl2L12 in chronic lymphocytic leukemia patients: association with clinical and molecular prognostic markers. Med Oncol. 2013;30(1):405.
Klampfl T, Milosevic JD, Puda A, Schönegger A, Bagienski K, Berg T, Harutyunyan AS, Gisslinger B, Rumi E, Malcovati L, Pietra D, Elena C, Della Porta MG, Pieri L, Guglielmelli P, Bock C, Doubek M, Dvorakova D, Suvajdzic N, Tomin D, Tosic N, Racil Z, Steurer M, Pavlovic S, Vannucchi AM, Cazzola M, Gisslinger H, Kralovics R. Complex patterns of chromosome 11 aberrations in myeloid malignancies target CBL, MLL, DDB1 and LMO2. PLoS One. 2013;8(10):e77819.
Radmilovic M, Zukic B, Petrovic MS, Bartsakoulia M, Stankovic B, Kotur N, Dokmanovic L, Georgitsi M, Patrinos GP, Pavlovic S. Functional analysis of a novel KLF1 gene promoter variation associated with hereditary persistence of fetal hemoglobin. Ann Hematol. 2013;92(1):53-58.
Rodic P, Pavlovic S, Kostic T, Suvajdzic Vukovic N, Djordjevic M, Sumarac Z, Dajak M, Bonaci Nikolic B, Janic D. Gammopathy and B lymphocyte clonality in patients with Gaucher type I disease. Blood Cells Mol Dis. 2013;50(3):222-225.
Spasovski V, Tosic N, Nikcevic G, Stojiljkovic M, Zukic B, Radmilovic M, Karan-Djurasevic T, Srzentic S, Colovic M, Pavlovic S. The influence of novel transcriptional regulatory element in intron 14 on the expression of Janus kinase 2 gene in myeloproliferative neoplasms. J Appl Genet. 2013;54(1):21-26.
Milosevic JD, Puda A, Malcovati L, Berg T, Hofbauer M, Stukalov A, Klampfl T, Harutyunyan AS, Gisslinger H, Gisslinger B, Burjanivova T, Rumi E, Pietra D, Elena C, Vannucchi AM, Doubek M, Dvorakova D, Robesova B, Wieser R, Koller E, Suvajdzic N, Tomin D, Tosic N, Colinge J, Racil Z, Steurer M, Pavlovic S, Cazzola M, Kralovics R. Clinical significance of genetic aberrations in secondary acute myeloid leukemia. Am J Hematol. 2012;87(11):1010-1016.
Giardine B, Borg J, Higgs DR, Peterson KR, Philipsen S, Maglott D, Singleton BK, Anstee DJ, Basak AN, Clark B, Costa FC, Faustino P, Fedosyuk H, Felice AE, Francina A, Galanello R, Gallivan MV, Georgitsi M, Gibbons RJ, Giordano PC, Harteveld CL, Hoyer JD, Jarvis M, Joly P, Kanavakis E, Kollia P, Menzel S, Miller W, Moradkhani K, Old J, Papachatzopoulou A, Papadakis MN, Papadopoulos P, Pavlovic S, Perseu L, Radmilovic M, Riemer C, Satta S, Schrijver I, Stojiljkovic M, Thein SL, Traeger-Synodinos J, Tully R, Wada T, Waye JS, Wiemann C, Zukic B, Chui DH, Wajcman H, Hardison RC, Patrinos GP. Systematic documentation and analysis of human genetic variation in hemoglobinopathies using the microattribution approach. Nat Genet. 2011;43(4):295-301.
Stojiljkovic M, Zukic B, Tosic N, Karan-Djurasevic T, Spasovski V, Nikcevic G, Pavlovic S. Novel transcriptional regulatory element in the phenylalanine hydroxylase gene intron 8. Mol Genet Metab. 2010;101(1):81-83.
Zukic B, Radmilovic M, Stojiljkovic M, Tosic N, Pourfarzad F, Dokmanovic L, Janic D, Colovic N, Philipsen S, Patrinos GP, Pavlovic S. Functional analysis of the role of the TPMT gene promoter VNTR polymorphism in TPMT gene transcription. Pharmacogenomics. 2010;11(4):547-557.
Pavlovic S. TPMT gene polymorphisms: on the doorstep of personalized medicine. Indian J Med Res. 2009;129(5):478-480.
Tosić N, Stojiljković M, Colović N, Colović M, Pavlović S. Acute myeloid leukemia with NUP98-HOXC13 fusion and FLT3 internal tandem duplication mutation: case report and literature review. Cancer Genet Cytogenet. 2009;193(2):98-103.
Colovic N, Tosic N, Aveic S, Djuric M, Milic N, Bumbasirevic V, Colovic M, Pavlovic S. Importance of early detection and follow-up of FLT3 mutations in patients with acute myeloid leukemia. Ann Hematol. 2007;86(10):741-747.
Contact:
Vojvode Stepe 444a
P. O. Box 23,
11010 Belrade, Serbia
Tel:+381 11 3976445,
Faks:+381 11 3975808
zmzg@imgge.bg.ac.rs