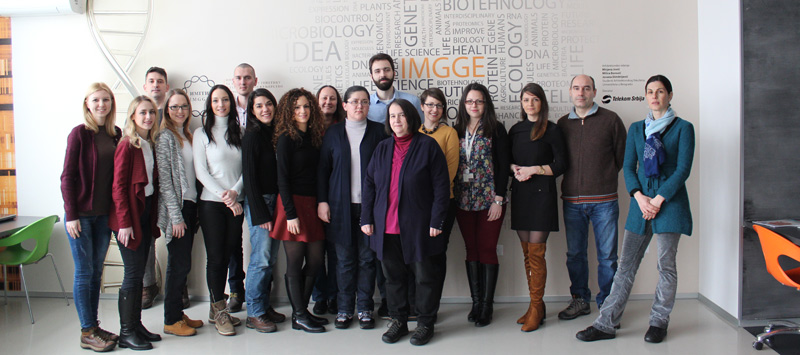 Our main research interest is to study genotype-phenotype correlation and to reveal combined modulatory role of different genes in respiratory (COPD, CF, asthma) and cardiovascular (thrombosis, cardiomyopathies) diseases, and solid tumors (pancreatic adenocarcinoma, colorectal cancer, lung carcinoma). Selected genes participate in regulation of hemostasis, inflammatory processes, tissue remodeling, signal pathways, cellular proliferation and protection from oxidative stress. We are also involved in investigation of the role of cystic fibrosis (CFTR) gene mutations and polymorphisms in CFTR related disease (CBAVD, chronic pancreatitis and disseminated bronchiectasis).
In order to decipher molecular mechanisms underlying striated muscle disorders we are exploring structural and regulatory roles of stress sensors Ankrd1 and Ankrd2, which link the elastic I-band region of the sarcomere with transcriptional control in the nucleus. The aim is to identify signaling pathways in which they play a role, their downstream targets, as well as regulators of their expression. We search for Ankrd1 mutations associated with hypertrophic cardiomyopathy and evaluate Ankrd2 status in neuromuscular disorders.
Zebrafish (Daniorerio) animal model system is used in our laboratory for cardiovascular research and genotoxicology testing. Zebrafish offers many advantages such as high genetic and organ system homology to humans, high fecundity, easy genetic manipulation and transparency that enable powerful imaging.
Molecular diagnosis of cystic fibrosis, thrombophilia and α1-antitrypsin deficiency, as well as farmacogenetic testing for individual response to anticoagulant therapy are performed and offered as a service.


Curent project:
The role of prothrombin in colon cancer
Research project within scientific and technological cooperation between Republic of Serbia and Republic of Croatia
Principal Investigator: Dr Valentina Djordjevic, MGGE
Zebrafish (Danio rerio) as a model system for studying the role of muscle ankyrin repeat proteins Ankrd1 and Ankrd2 in cardiogenesis and heart regeneration
Project of the Serbian-German bilateral scientific collaboration
Principal Investigator: Dr Snezana Kojic, IMGGE
Selected publications:
Jasnic-Savovic J, Krause S, Savic S, Kojic A, Kovcic V, Boskovic S, Nestorovic A, Rakicevic L, Schreiber-Katz O, Vogel JG, Schoser BG, Walter MC, Valle G, Faulkner G, Kojic S. Differential expression and localization of Ankrd2 isoforms in human skeletal and cardiac muscles. Histochem Cell Biol.2016;146(5):569-584.
Stankovic M, Kojic S, Djordjevic V, Tomovic A, Nagorni-Obradovic L , Petrovic-Stanojevic N, Mitic-Milikic M, Radojkovic D. Gene-environment interaction between the MMP9 C-1562T promoter variant and cigarette smoke in the pathogenesis of chronic obstructive pulmonary disease. Environ Mol Mutagen. 2016;57(6):447-54
Jasnic-Savovic J, Nestorovic A, Savic S, Karasek S, Vitulo N, Valle G, Faulkner G, Radojkovic D, Kojic S. Profiling of skeletal muscle Ankrd2 protein in human cardiac tissue and neonatal rat cardiomyocytes. 2015;143(6):583-597.
Kojic S, Nestorovic A, Rakicevic L, Protic O, Jasnic-Savovic J, Faulkner G, Radojkovic D. Cardiac transcription factor Nkx2.5 interacts with p53 and modulates its activity. Arch Biochem Biophys 2015;569:45-53.
Ljujic M, Divac Rankov A, Kojic S, Miranda E, Radojkovic D. Functional analysis of novel alpha-1 antitrypsin variants G320R and V321F. Mol Biol Rep 2014;41:6133-6141.
Nikolic A, Milosevic K, Boskovic S, Nestorovic B. Neutrophil Elastase Gene Polymorphisms: Modulators of Response to Therapy in Childhood Bronchiectasis? Lung 2014;192(4):595-599.
Pruner I, Djordjevic V, Gvozdenov M, Tomic B, Radojkovic D. Determination of transgene copy number in stably transfected mammalian cells by PCR-capillary electrophoresis assay. Biochem Genet 2014;52:159-165.
Djordjevic V, Kovac M, Miljic P, Murata M, Takagi A, Pruner I, Francuski D, Kojima T, Radojkovic D. A novel prothrombin mutation in two families with prominent thrombophilia--the first cases of antithrombin resistance in a Caucasian population. J Thromb Haemost 2013;11:1936-1939.
Rakicevic LB, Kusic-Tisma JS, Kovac MK, Backovic DT, Radojkovic DP. Rationalized DNA sequencing-based protocol for genotyping patients receiving coumarin therapy. Scand J Clin Lab Invest 2013;73:523-527.
Djordjevic V, Mitic G, Pruner I, Kovac M, Radojkovic D. Are thrombophilia more multifactorial than we thought: report of mosaicism for FII G20210A and novel FII T20061C gene variants. J Thromb Haemost 2012;10:301-303.
Nikolic A, Ristanovic M, Perovic V, Trifunovic J, Perovic M, Radojkovic D. Genetic alterations in SMAD4 and K-ras in Serbian patients with endometrial carcinoma. Int J Gynecol Cancer 2012;22:442-446.
Nikolic A, Kojic S, Knezevic S, Krivokapic Z, Ristanovic M, Radojkovic D. Structural and functional analysis of SMAD4 gene promoter in malignant pancreatic and colorectal tissues: detection of two novel polymorphic nucleotide repeats. Cancer Epidemiol 2011;35:265-271.
Kojic S, Nestorovic A, Rakicevic L, Belgrano A, Stankovic M, Divac A, Faulkner G. A novel role for cardiac ankyrin repeat protein Ankrd1/CARP as a co-activator of the p53 tumor suppressor protein. Arch Biochem Biophys 2010;502:60-67.
Kusic J, Tomic B, Divac A, Kojic S. Human initiation protein Orc4 prefers triple stranded DNA. Mol Biol Rep 2010;37:2317-2322.
Djordjevic V, Stankovic M, Brankovic-Sreckovic V, Rakicevic L, Radojkovic D. Genetic risk factors for arterial ischemic stroke in children: a possible MTHFR and eNOS gene-gene interplay? J Child Neurol 2009;24:823-827.
Stankovic MM, Nestorovic AR, Tomovic AM, Petrovic-Stanojevic ND, Andjelic-Jelic MS, Dopudja-Pantic VB, Nagorni-Obradovic Lj M, Mitic-Milikic MM, Radojkovic DP. TNF-alpha-308 promotor polymorphism in patients with chronic obstructive pulmonary disease and lung cancer. Neoplasma 2009;56:348-352.
Stankovic M, Nikolic A, Divac A, Rakicevic L, Tomovic A, Mitic-Milikic M, Nagorni-Obradovic L, Grujic M, Petrovic-Stanojevic N, Andjelic-Jelic M, Dopudja-Pantic V, Radojkovic D. Matrix metalloproteinases gene variants in idiopathic disseminated bronchiectasis. J Investig Med 2009;57:500-503.
Ljujic M, Topic A, Divac A, Nikolic A, Petrovic-Stanojevic N, Surlan M, Mitic-Milikic M, Radojkovic D. Isoelectric focusing phenotyping and denaturing gradient gel electrophoresis genotyping: a comparison of two methods in detection of alpha-1-antitrypsin variants. Transl Res 2008;151:255-259.
Stankovic M, Nikolic A, Divac A, Tomovic A, Petrovic-Stanojevic N, Andjelic M, Dopudja-Pantic V, Surlan M, Vujicic I, Ponomarev D, Mitic-Milikic M, Kusic J, Radojkovic D. The CFTR M470V gene variant as a potential modifier of COPD severity: study of Serbian population. Genet Test 2008;12:357-362.
Stefanovic D, Kusic J, Divac A, Tomic B. Formation of noncanonical DNA structures mediated by human ORC4, a protein component of the origin recognition complex. Biochemistry 2008;47:8760-8767.
Contact:
Vojvode Stepe 444a
P.O BOX 23,
11010 Belgarde, Serbia
Tel:+381 11 3976658,
Faks:+381 11 3975808
labmolbio@imgge.bg.ac.rs